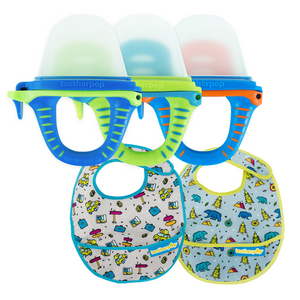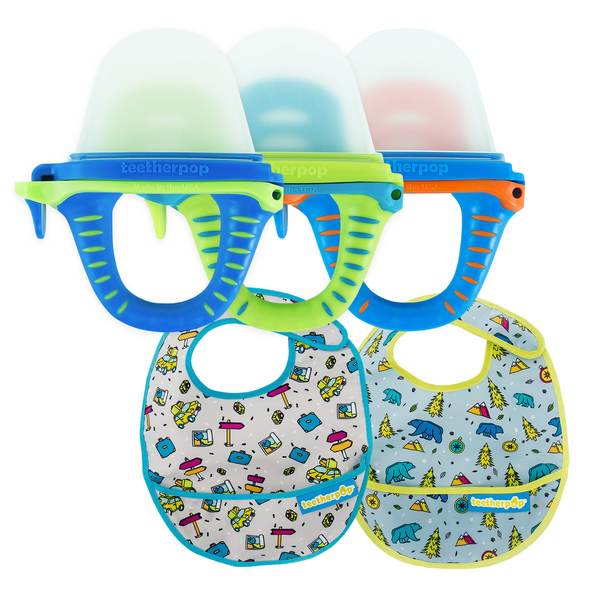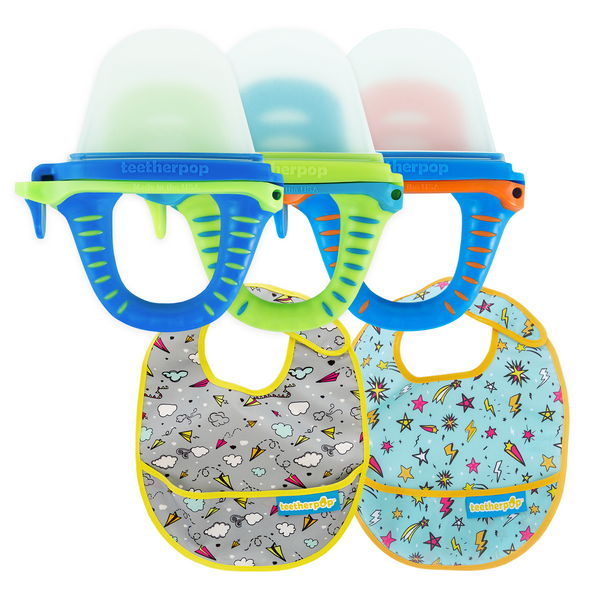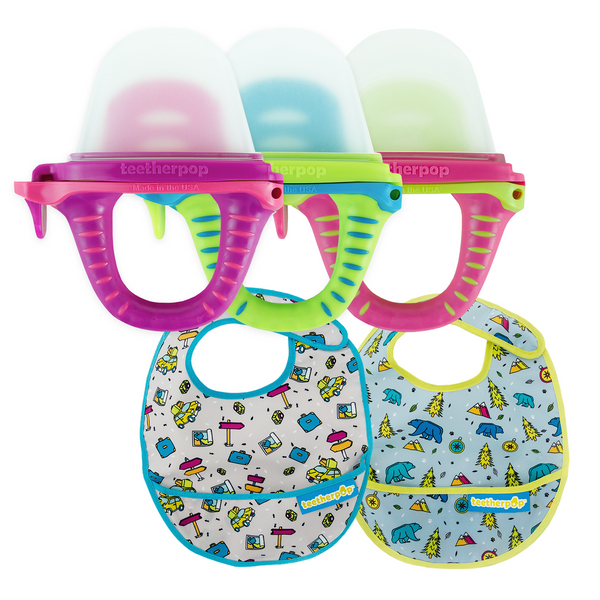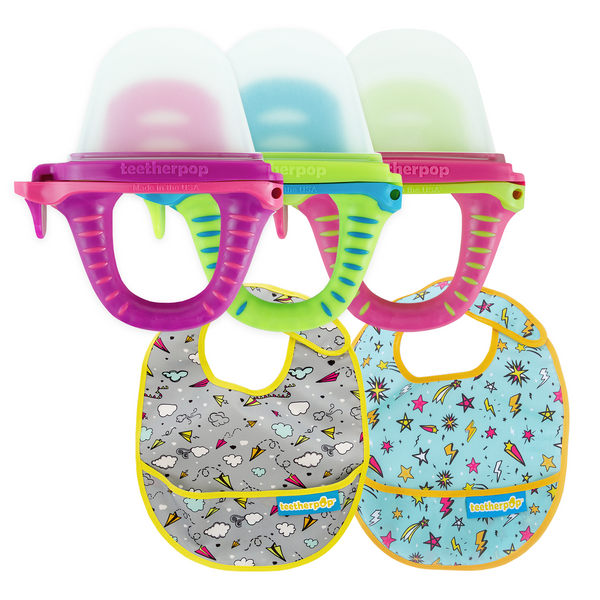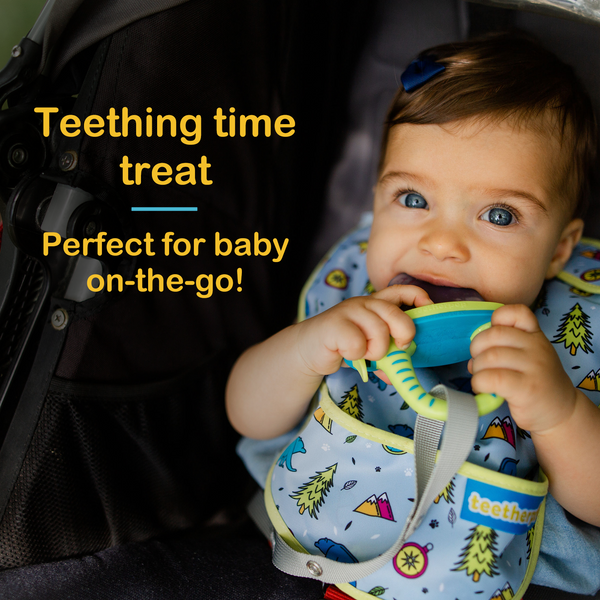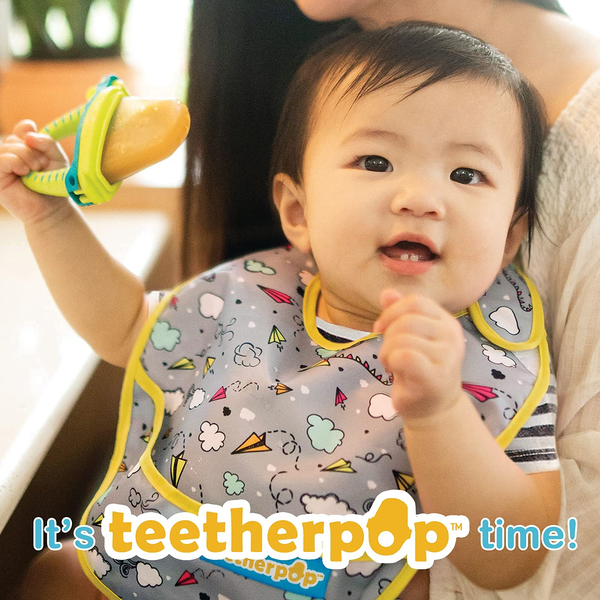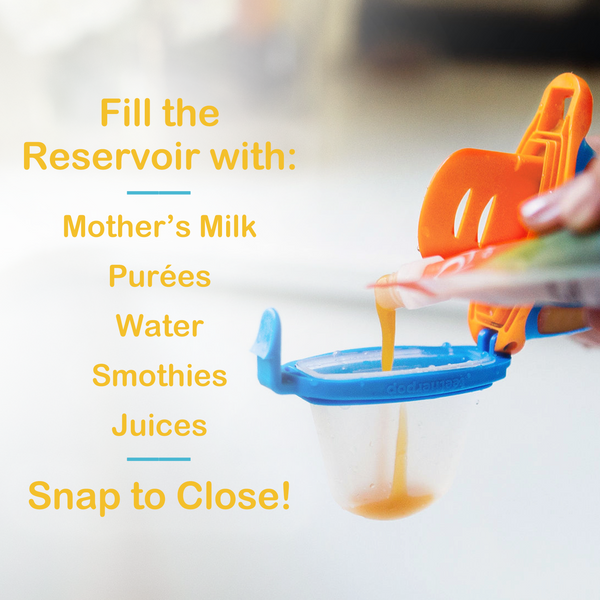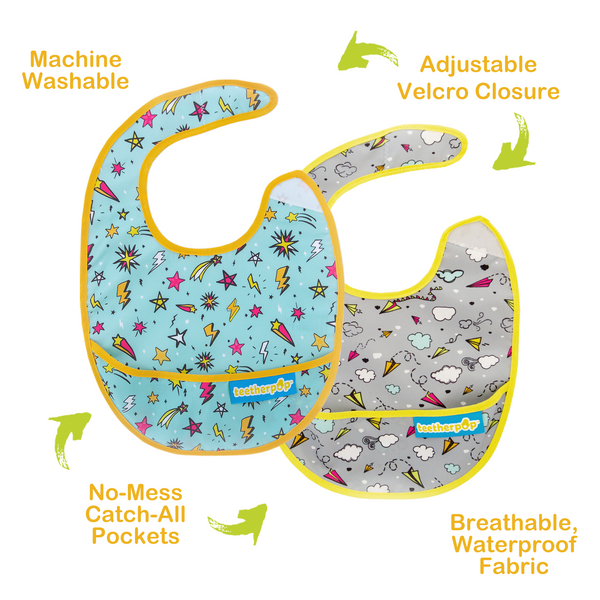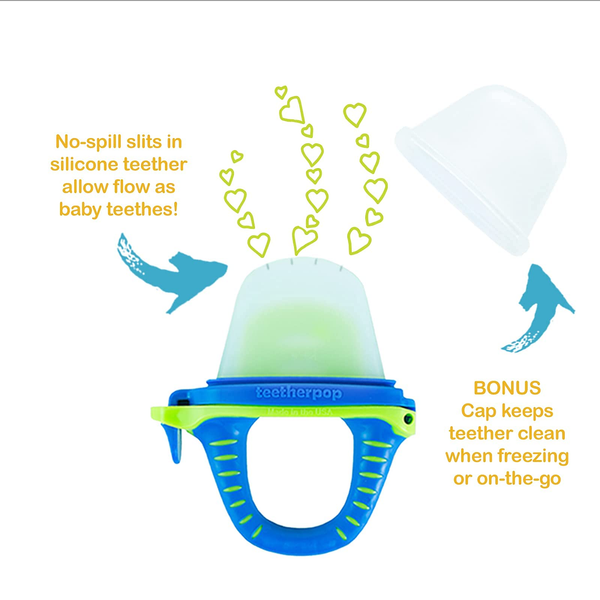 3-PK teetherpop™ + 2-PK Bib Bundle
Regular price
$49.99
$0.00
Unit price
per
Mix-n-Match and Gear Up with our 2-Pack Teetherpop + 2-Pack Bib Bundle!
teetherop™ - 3 Pack
Fillable Baby Teether - You decide what goes inside your baby's teether! Flexible slits in silicone teether allow flow of baby's treat and keeps contents contained for less mess. Fill your baby's teetherpop ™ with purees, water, breastmilk, homemade smoothies and juices or baby's favorite drink.
Baby Food Feeder - Perfect teethers for toddlers! Teetherpop™ allows little ones to try their first foods independently, simply fill with baby's first purées. Also, great in place of, or conjunction to refillable baby purée pouches! For more flow, thin the mixture with water as needed.
Freezable Teethers - Freeze for an added treat. The silicone teether's flexible slits allow flow of baby's thawing treat as they teethe. Soft silicone shields baby's sensitive gums. Our unique chilled teething treat makes little ones happy, from baby's first teeth to molars! teetherpop ™ is a great substitute for teething popsicle molds and a creative option for breastmilk freezer storage containers.
USA-Made Teethers for Babies - Founded in Austin, TX and manufactured in Ashland, OH, our teetherpop teethers are made from 100% medical-grade silicone and food-grade polypropylene free of BPA, PVC, and phthalates.
 For Ages 6+ Months - teethers for babies 6-12 months & teethers for toddlers 12-24 months, teetherpop™ is the perfect go-to for all teething babies and toddlers. It's the trending alternative to a fruit teether or baby fruit teether, and a pleasing less messy substitute to traditional popsicles for toddlers, too!
Baby Bib
 2-Pack
 6-18 months
 100% Polyester
 Hook and Loop closure
Machine Washable
EASY TO CLEAN & EASY TO USE: Teetherpop™ baby bibs are wipeable and machine washable for easy cleaning, so you can use them again and again. Attaches quickly over the back of the shoulders with secure & adjustable Velcro closure. Handy food-catcher pocket for all the crumbs and spills. Wash with pocket inside-out and hang dry for best results. Bibs can be ironed on low heat if desired.
 LIGHT WEIGHT & COMFORTABLE: Teetherpop™ baby bib fabric is soft and durable. Our bibs are strong and breathable polyester with a TPU coating for waterproofing. Teetherpop™ bibs stand up to messes while also being lightweight and comfortable. Fits babies 6-18 months old, so our bibs are around for the long haul.
TEETHERPOP™ TIME: From the makers of Teetherpop™ the fillable, freezable baby teether, these bibs go great with Teetherpop™. When parents need to get things done and babies are hungry, it's Teetherpop™ time! Put your baby in a Teetherpop™ bib, fill your Teetherpop™ with breast milk, water, purees & more, and your baby will be happy & entertained.
 LAB TESTED SAFE: At Teetherpop™, we take pride in rigorous product testing to ensure you have the safest possible products. Our bibs are BPA-free, PVC-free, vinyl-free, phthalate-free, and lead-free. You can rest easy knowing that your baby is safe in our bibs.
 FUN PATTERNS: Teetherpop™ bib designs work perfectly for baby girls and baby boys. Reflective of the teetherpop™ brand, our colorful patterns are fun, entertaining and gender neutral. Sold as 2 packs, baby gets two fun patterns to favor. Choose from our vibrant Paper Planes & Shooting Stars or our adventurous Road Trip & Outdoor Explorer. Delight baby's imagination and keep clothes protected.
---